| | |
| --- | --- |
| Tags: | food, ice cream, photos |
| Current Music: | Secret Frequency Crew - The Underwater Adventure Hop Secret Treasure |
| Security: | |
| Subject: | S'mores ice cream cupcakes |
| Time: | 10:59 pm |
Just when I got an Ice Cream Maker, Stef at
The Cupcake Project
announced a
Ice Cream Cupcake Roundup
. I like baking and I was looking forward to making ice cream, so this seemed like a great idea!
And so I present you S'mores ice cream cupcakes: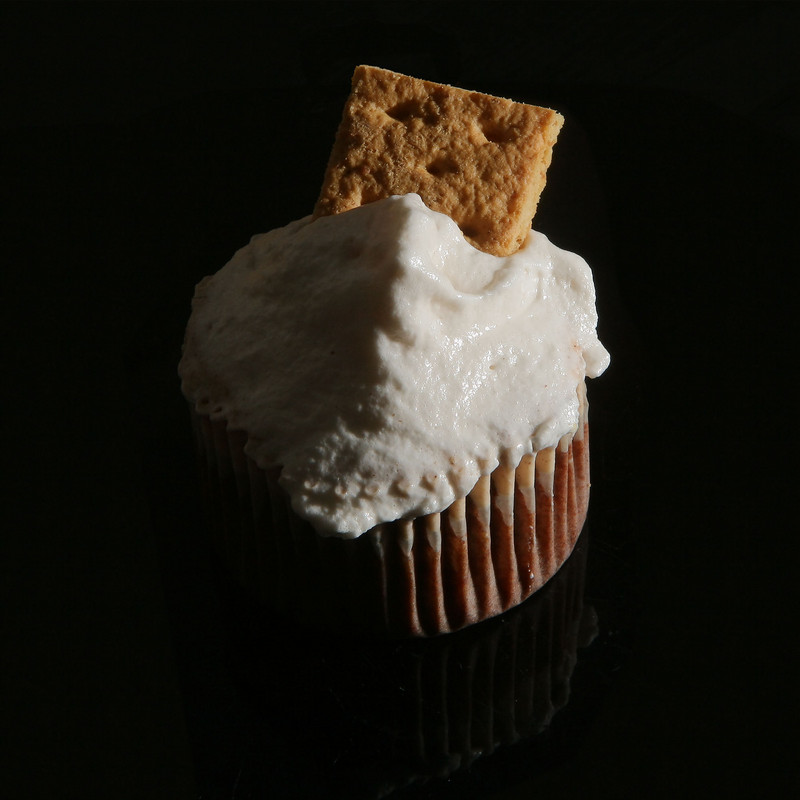 Cinnamon Graham Cracker Crunch is my favorite ice cream flavor. I first had it at the really fantastic
Sebastian Joe's Ice Cream Cafe
in Minneapolis. It's lack of common availability is one of the biggest reasons I bought an ice cream maker at all.
So I figured I should try to come up with a cupcake that complements that. And what goes with graham crackers better than chocolate and marshmallows? (If you know of something, let me know. Seriously.)
Stef's ice cream cupcake formula worked great.
For the cake I used Christopher Kimball's Almost Fallen Chocolate Cake, from the excellent
Dessert Bible
. This is a very moist, rich (6 eggs!) cake which tries to compromise sturdiness and the fantastic chocolateyness of the gooey fallen chocolate cake. I used one of my favorite chocolates,
E. Guittard's
semisweet chocolate wafers
. Since I was only filling the cupcake papers half way, I should have made half a recipe, but instead I just made 24 cupcakes and a small regular cake. I baked the cupcakes about 15 minutes. before they seemed firm; they probably would have been fine after a little less time. Then: straight into the freezer!
Cupcakes cool a lot faster than regular cupcakes, so while they chilled I started making the ice cream. Earlier in the week I tried Ceylon cinnamon (or
"True Cinnamon"
) ice cream, but that was really unnecessary; cinnamon graham crackers use
Cassia
(a.k.a. Saigon cinnamon), so there wasn't really any question in the first place. Philadelphia style ice cream has no eggs. I prefer it over French style ice cream; I find the eggs a little too rich. Also Philly-style's way easier to make:
1 pint heavy whipping cream (cold, right out of the fridge)
1 cup whole milk (cold, right out of the fridge)
3/4 cup sugar
a couple tbsp of cinnamon
a heaping splash of vanilla extract
most of one of those three-to-a-box waxed paper packages of graham crackers.
Combine everything but the graham crackers, mix it until the sugar dissolves, pour into the ice cream maker. Cinnamon is just little pieces of bark, and doesn't dissolve, so be sure to scrape any left-behind cinnamon sludge into the ice cream maker too. Cut/break the graham crackers into about 3/4" chunks. About a minute before the ice cream maker's done, add the graham crackers.
From there I spatulaed the ice cream in on top of the cupcakes, and then put them in the freezer to firm up. This only used about half my ice cream, too, so I put the rest in a plastic container in the freezer.
I looked up a bunch of recipes for marshmallow meringue frostings, but eventually got bored and decided to wing it. Also, they all called for Fluff, and I didn't have any. So I made a regular meringue icing, but used melted marshmallows instead of about 2/3 of the sugar. It ultimately worked out ok, but let's just say: next time I'm using Fluff, which is soft at room temperature.
I also garnished them with a little square of graham cracker, as you can see in the picture. Fun fact: The graham cracker was invented by a kook named Graham as part of a dietary regimen intended to suppress impure thoughts and stop masturbation, which together lead to blindness and all kinds of other health problems. (This was before Louis Pasteur figured out germs, when nobody had any idea why anyone got sick.)
I'm pretty pleased with how these came out. Neither I nor my tasting panel had ever had an ice cream cupcake before, but even without any baseline for comparison, we all agree these were pretty darn good. I will definitely make these again, and probably soon!
comments: Leave a comment